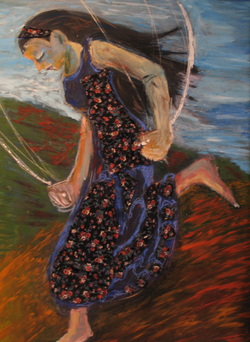 Bio
Janet Sanguedolce is an artist who lives and works in Meredith, NH. Sanguedolce studied art at the University of Wisconsin-Superior, where she developed a love for pottery and Clark College in Dubuque, Iowa, where the visual arts took hold. She completed a masters program in art education and studio art at Plymouth State University in Plymouth, NH. Her current art focuses on nature and music as a visual themes. Learning and living the music trade has developed an appreciation for the time and practice it takes to become accomplished enough to share this art with the public and thus has blended and infiltrated into her art world. Hiking ,biking, and kayaking have offered the opportunities for Janet to spend time with mother nature which inspires much of her encaustic work. Recently retired as a professional educator, Sanguedolce is currently working as an artist, musician, and adjunct professor at Plymouth State University.
Artist Statement
I've got blisters on my fingers...The narratives that life unfolds inspire my artwork. My current body of work has been influenced by Mother Nature. I am amazed by her growth and color. My recent endeavor to become accomplished in the use of encaustic paint has given me the pallet to recreate my visions of nature. The music I play is entwined with the winds of nature. The parallels of both continue to inspire my art. As I work intuitively, vision, memory, and emotion illuminated by personal experiences allow my reflections to be communicated through image.
ResumeJanet Sanguedolce23 Ambrose RoadMeredith, NH 03253(603) 2794471 (H) (603) 707-0234 (C)e- mail pjsanguedolce@myfairpoint.net Education:
1999 Plymouth State University Plymouth, NH
Master of Education- Integrated Arts
Professional Experience:
1999-2017 High School Art Teacher
Inter-Lakes High School
Meredith, NH
present Adjunct Faculty- PSU Plymouth, NH
present Adjunct Faculty-NH Technical Community College
Laconia, NH
Solo Exhibits:
2017
"
Rhythms in Art and Nature"
Gallantly Gallery, New Hampton, NH
2017 "The Last Chair"
Plymouth, NH
2016 Visiting Artist
Artistic Roots
Plymouth, NH
2012 "Guest Artist Show" Holderness Public Library
Holderness, NH
2009 "Guest Artist Show" Meredith Public Library
Meredith, NH
Group Exhibitions

2014 "So Many Choices" Wren Gallery Bethlehem, NH
2012 "Omer T Lassond Juried Show" Lincoln Levy Gallery Portsmouth, NH
2011 "Summer Work Show" Collins Gallery, Plymouth State University, Plymouth, NH
2011 "Visions" Children's Museum, Dover, NH.
2011 "So Many Choices" Wren Gallery, Bethlehem, NH
2009 "Featured Member Show" Village Artists and Gallery
2007 "Member Juried Show" Lincoln Levy Gallery. Portsmouth, NH
2005 "Juried Show" Manchester Institute of Art and Science, Manchester, NH
2000 "Winter Juried Show" Gallately Gallery, New Hampton, NH
Awards:
Karl Drerup Art Award Plymouth State University
American Mothers State Art Competition-1st place, Los Angeles, California
Bibliography:
Lewis, Bea "A True Artists" Citizen, 2009
Professional Organization:
National Art Association
NH Art Association
NH Art Education Association
WREN
Representation:
---